"Nobody has a perfect life. What you see on the screen is the best of the artist." - René Angelil 
As I have listened to Marc speak about his 20 years working with Celine and René, I can say, the best of the artist begins in the eye of the beholder. René saw good things in the artists he surrounded himself with.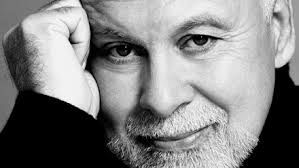 This morning Marc woke up and said, "I don't know, I feel a kind of sadness…" We went on with our morning routine, getting ready, each going on our way. There was something. We sent each other some warm messages in the day; something we are usually too busy to do. Then on the way home in traffic, Marc texts me. He may be delayed, he's been busy doing interviews regarding René's death. It's the day… Within minutes a reporter calls me on my cell wanting to know how to get in touch with Marc. The evening has been a whirlwind of calls and interviews, radio, tv and print media.  
I always wanted to meet René but never did. I would see him on occasion from afar. I knew him through Marc's stories and account of his spirit and his generous nature. Once as Marc's sisters were in Vegas waiting to meet Celine, René came through the green room and said hello, then said to them in his unique raspy voice, "Marc is Perfect."  
So now in the quiet of our home, we reflect, we mourn and we celebrate a man who has been such a big part of Marc's life. Maybe what we see on screen is the best of the artist's advocate too. Three cheers for a life well lived. Enjoy your next adventure lil' angel! 
Namaste! 
Bianca 
This personal blog was written by Bianca Pittoors. You may "share" it in its entirety. I respectfully request that you respect it as the intellectual property that it is. Thank you! 
Bianca Pittoors & Marc Langis are Bianca Basso. Creators of original vintage music, they are distinctive in their contemporary style.